Australians who are learning to drive may be fined for not abiding by social distancing and essential service measures as one, 'learner driver' found out after receiving a $1600 AUD fine ($1376 CAD).
The person was pulled over by police while taking a driving lesson with her mother in Melbourne. The fine signals a warning to other drivers taking lessons, that such an endeavour isn't considered essential by authorities, according to Australian News.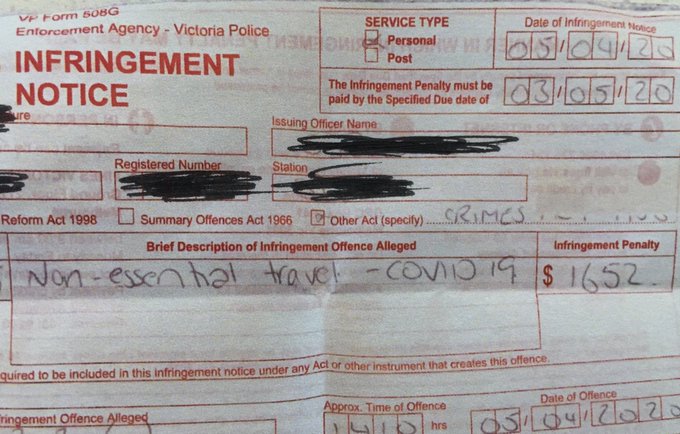 However, New South Wales Police argue that it is a reasonable excuse to be out because the driver is partaking in a lesson, "we consider that it would be a reasonable excuse...given that this is a learning activity that cannot be done from home," stated the police force.
Sharee Reynolds was the woman who took her daughter Hunter, 17, out to practice her driving over the weekend, "We didn't think for one minute that we would be doing anything wrong. We weren't in contact with any person, we weren't stopping anywhere, we weren't planning on visiting any destination. We were just learning to drive in those conditions and we were pulled over by the police," she said.
"She (the police officer) said we were too far from home and we would cop a fine, and that Hunter would be the person to receive that fine."
Hunter's "non-essential travel" cost her an on-the-spot fine of $1652 AUD.
"We all have to make sacrifices," said Victoria's Health Minister Jenny Mikakos, who was critical of the families decision to practice driving. "You should be staying at home at every opportunity. That doesn't include taking your child on a learner driver experience," she said.
Victoria is in a stage three shutdown, meaning residents are allowed to leave the house under one of four circumstances; to get food and supplies, medical care or care giving, to get exercise and for work or education.
"The Chief Health Officer has stated that taking driving lessons is not one of those exemptions, so you can't be out doing it," said Deputy Commissioner Shane Patton in a press conference. Patton warned that all learning drivers shouldn't be out driving unless it falls into one of the four categories. Patton is however considering retracting the fine given to Hunter.
"Although we are satisfied that that was a lawfully issued infringement, I've spoken with the Assistant Commissioner of the region and in conjunction with the member we'll be looking at whether discretion should or could be applied to these circumstances.
"It can be but whether it is appropriate. All of those circumstances will be taken into account and whether a withdrawal occurs will be determined in due course."
He said while he didn't know "the exact details" of the case, he defended Victoria Police's actions by claiming, "this isn't driving around the corner, I think it was driving 40 minutes."
"Are we able to send a message to the public without having to fine in this circumstance? I think the fact it's been raised has given actual clarity to the circumstance so it's quite possible to be withdrawn because the public is now aware they can't be doing that activity unless it's mixed in with driving to the shops, where you are exempt to go buy food, those sorts of things."
"You can't have a direct driving lesson, the only way you could potentially have any driving practice is if you're applying one of those exemptions that exist for you to go up to the shops to buy food and supplies."
"Going to work, education are also exempted. If you are going to one of those activities that are exempted you could potentially take your child to one of those, you cannot go out and go driving 40 minutes away."
"It's against the law."
"What Victorians should be doing – the vast majority are – is saying, 'I must stay at home unless I have to go out for one of those four essential reasons', that's the approach they should be adopting, all the time, up to and including Easter."
New South Wales Police have persisted with their opposing view to their Victorian counterparts however saying to its residents that they will allow learner driver's and their instructors to further partake in lessons.
"Under the Public Health Orders, a person cannot leave their place of residence without a reasonable excuse," wrote NSW police in an online statement.
"A reasonable excuse includes travelling for the purposes of work where you cannot work from home, so driving instructors can leave their house for their work – to teach people how to drive.
"We consider that it would be a reasonable excuse for a person to leave their house to receive driving lessons (either from a driving instructor or a member of their family), given that this is a learning activity that cannot be done from home and is akin to the listed reasonable excuse of travelling to attend an educational institution where you cannot learn from home."
"Learner drivers could also continue to drive with a supervising family member for any of the listed reasonable excuses for leaving the house – for example, driving to the supermarket."
Sharee asked the officer the reason for the fine and claims the officer responded by saying that police were, "smashing it on the roads today." Sharee called the fine "ridiculous" and said the officer could have just issued them a warning. "If for some reason she felt that we had done the wrong thing I think it would have had the same impact had she just given us a warning. It is a bit of a shock because we are not setting out to break any rules whatsoever," said Sharee, on a local radio program. She intends to fight the fine in court.